If you would like to discover more about the Secular Franciscan way of life,  or if you would like encouragement and support on your spiritual path, or if you like help finding your your local OFS Fraternity visit whichever of the following is closest to you, or the CIOFS who will have details of all countries:
Secular Franciscan Order, Australia  or email national@ofsaustralia.org.au
Secular Franciscan Order, United States of America or the Local Fraternities Page or email info@secularfranciscansusa.org
OFS The Secular Franciscan Order of Great Britain or email info@ofsgb.org
CIOFS the International Council of the Secular Franciscan Order – The Ordo Franciscanus Saecularis or email  ciofs@ciofs.info
or do feel free to email this website using  hello@franciscanseculars.com
---
Worldwide Appeal
This website was originally designed for The Isle of Wight Franciscan Group since then interest in the site has extended worldwide, and so it now helps to introduce many interested people to the Secular Franciscan way of life.
Isle of Wight Franciscan Group
The Isle of Wight Franciscan Group is formed of faithful people seeking guidance and support in their spiritual journey, whilst also offering encouragement to one another. The group includes faithful Catholics from around the Island as well as professed OFS members, enquirers and visitors. If you live on the Isle of Wight and would like to meet with us do get in touch.  Everyone is welcome.  We meet the first Monday of each month, and are meetings are structured as below.
2:00pm – Welcome Tea/Coffee
2:30pm – A Moment of Stillness, Personal Reflection and Opening Prayer
2:40pm – Formation
4:00pm – Afternoon Prayer from the Divine Office
4:30pm – Close and Farewell
---
In the mean time you might like to:
View: A Video Portrait of St Francis.
Read about his life : on our St Francis page.
Learn about St Clare's contribution to Franciscan Spirituality.
Or consider more about joining the Secular Franciscan Order by reading articles about discernment.
Pax et bonum
May the Lord bless you.
May He set His face to shine upon you.
May the Lord give you His peace.
---
Location:
The Isle of Wight Franciscan Group meet on the:
1st Monday of each month from 2pm to 4:30pm at:
The McAuley Centre, 75 High Street, Newport, Isle of Wight or St Wilfrid's Church in Ventnor. 
The McAuley Centre is in the grounds of St Thomas of Canterbury Roman Catholic Church and accessed from the Presbytery garden gate 96 Pyle Street, Newport, Isle of Wight.
or from the High Street – past the Castle Inn and opposite Day Lewis Pharmacy where you will notice a red door/gate
Nearest Parking:
Drill Hall Road Car Park – also accessible from Lugley Street.
Scarrots Lane / New Street Car Park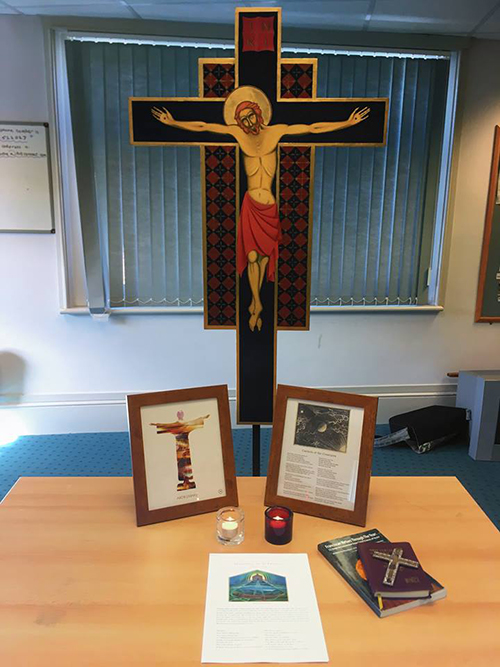 ---
Photos : Detail from the Saint Francis Window at All Saints Church, Newchurch, Isle of Wight and inside the McAuley Centre, Newport, Isle of Wight © Elizabeth Wolfendale