Main Historical Books – Lives of Francis & Clare
Francis of Assisi: The Saint Vol 1 – Early Documents – Regis J Armstrong OFM Cap
Francis of Assisi: The Founder Vol 2 – Early Documents – Regis J Armstrong OFM Cap
Francis of Assisi: The Prophet Vol 3 – Early Documents – Regis J Armstrong OFM Cap
St Clare of Assisi: The Lady – Early Documents – Regis J Armstrong OFM Cap
The First Life of St Francis – Thomas of Celano – Written 1229 [text on this website]
The Life of St Francis of Assiss – St Bonaventure – Written 1263 [download pdf from this website]





About Francis and Clare
Clare and Francis – The Complete Works – Regis J Armstrong OFM Cap
Clare of Assisi: A Heart Full of Love – Ilia Delio OFS
Light in the Dark Ages : Friendship of Clare and Francis of Assisi – Jon M Sweeney
The Poverty of Riches: St Francis of Assisi Reconsidered – Kenneth Baxter Wolf
The Passionate Troubadour: A Medieval Novel about Francis of Assisi – Edward M Hays
St. Francis of Assisi and the Conversion of the Muslims – Frank M Rega
Saint Francis: Passion, Poverty & the Man Who Transformed the Catholic Church – Bret Thomas OFS
Eager to Love – The Alternative Way of Francis of Assisi – Richard Rohr OFM
Francis: The Journey and the Dream – Murry Bodo OFM
Francis and Jesus – Murry Bodo OFM
St Clare of Assisi: Light from the Cloister – Bret Thoman OFS
Francis of Assisi: Performing the Gospel Life – Lawrence S. Cunningham






Franciscan Heritage Series : Theology & Understanding
The Franciscan View of the Human Person – Dawn Nothwehr OFS
A Franciscan View of Creation: Learning to Live in a Sacramental World – Ilia Delio OFS
Rejoicing in the Works of the Lord: Beauty in the Franciscan Tradition – Mary Beth Ingham CSJ
Women of the Streets: Early Franciscan Women and Their Mendicant Vocation – Daria Mitchell OFS
Understanding John Duns Scotus: of Reality the Rarest-Veined Unraveller – Mary Beth Ingham CSJ
Knowledge For Love: Franciscan Science as the Pursuit of Wisdom – Keith Douglass Warner OFM



Franciscan Spirituality or Tradition
The Franciscan Tradition – Regis Armstrong & Ingrid J Peterson
Franciscan Spirituality – Brother Ramon SSF
The Humility of God: A Franciscan Perspective – Ilia Delio OFS
Compassion: Living in the Spirit of St Francis – Ilia Delio OFS
A Condition of Complete Simplicity: Franciscan Wisdom for Today's World – Rowan Clare Williams CSF
Dating God Franciscan Spirituality for the Next Generation – Dan Horan OFM
The Franciscan Heart of Thomas Merton – Dan Horan OFM







THOUGHTFUL : READINGS, SCRIPTURE & REFLECTIONS
Live Like Francis – Weigel OFM & Foley OFM  – Weekly reflections on the SFO Rule
Franciscan Virtues through the Year: 52 Steps to Conversion – Confraternity of Penitents
    
Franciscan View on Ecology
Care for Creation : a Franciscan Spirituality of the Earth – Ilia Delio OFS

General Spirituality
Simpler Living, Compassionate Life: A Christian Perspective – Schut, McKibben
Beatitudes: Eight Steps to Happiness – Raniero Cantalamessa OFM Cap
Sober Intoxication of the Spirit: Filled with the Fullness of God – Raniero Cantalamessa OFM Cap
Humility Matters: Toward Purity of Heart – Margaret Funk OSB
Discernment Matters: Listening with the Ear of the Heart – Margaret Funk OSB
Making All Things New: Catholicity, Cosmology, Consciousness- Ilia Delio OFS
Immortal Diamond – Richard Rohr OFM
Divine Dance – Richard Rohr OFM
The Emergent Christ: Exploring Meaning of Catholic in Evolutionary Universe – Ilia Delio OFS
The Wisdom Jesus: Transforming Heart and Mind – Cynthia Bourgeault
The Meaning of Mary Magdalene: The Woman at the Heart of Christianity – Cynthia Bourgeault
Serving the Word: My Life – Raniero Cantalamessa OFM Cap
Last Testament – Benedict XVI
In God's Hands: The Spiritual Diaries of Pope St John Paul II







THE SFO RULE & ARTICLES WITH COMMENTARY & Refelctions
Called to Live the Dynamic Power of the Gospel – Philip Maquard OFM
Called to Make Present the Charism – Benet A Fonck OFM
Called to Follow Christ – Benet A Fonck OFM
Called to Build a More Fraternal and Evangelical World – Benet A Fonck OFM
Called to Rebuild the Church – Lester A Bach OFM Cap
Called to Proclaim Christ – Benet A Fonck OFM




Catholic Liturgical Prayer ; from the Divine Office
Morning and Evening Prayer – Recommended for Secular Franciscans – Published by Collins [approx £30]
Daily Prayer – Morning, Evening,  Day, and Night prayer – Published by Collins [approx £50]
For more information about prayer take a peek at Liturgical Prayer at Home


Other Liturgical Books : Printed by the Catholic Truth Society
Daily Missal: People's Edition with Mass : Daily Readings throughout the year
Sunday Missal: People's Edition with Mass : Sunday readings only throughout the year
Order of Mass – a helpful guide [approx £3 – £5]



Franciscan Books for Eucharist Adoration
Manual for Eucharistic Adoration – Poor Clares of Perpetual Adoration
Eucharistic Adoration: Reflections in the Franciscan Tradition – Franciscan Sisters of Perpetual Adoration


Franciscan Theologians & Their Writings
Simply Bonaventure: An Introduction to His Life, Thought, and Writing – Ilia Delio OSF
Bonaventure : The Soul's Journey into God, The Tree of Life, The Life of St. Francis – Ewert Cousins
The Life of St. Francis of Assisi – St Bonaventure
The Life of Our Lord Jesus Christ – St Bonaventure
The Mind's Road to God – St Bonaventure
The Triple Way / Kindling of Love – St Bonaventure
The Mirror of the Blessed Virgin Mary – St Bonaventure
The Tree of Life – St Bonaventure
On the Eternity of the World – St Bonaventure
Scotus for Dunces: An Introduction to the Subtle Doctor – Mary Beth Ingham CSJ
A Primer on the Absolute Primacy of Christ: Blessed John Duns Scotus and the Franciscan Thesis – Fr Maximilian Mary Dean  FI
The Philosophical Vision of John Duns Scotus: An Introduction – Mary Beth Ingham CSJ
The Harmony of Goodness: Mutuality and Moral Living According to John Duns Scotus – Mary Beth Ingham CSJ
Some Later Medieval Theories of the Eucharist: Thomas Aquinas, Gilles Of Rome, Duns Scotus, And William Ockham – Marilyn Adams





---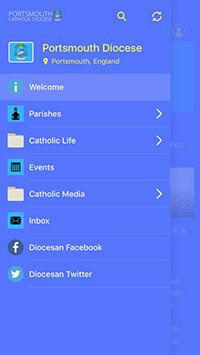 Our Diocese of Portsmouth now has an app available on Apple and Android for smartphones and tablets.
It includes information of local Churches, including Mass times, Eucharistic Adoration and the Sacrament of Reconciliation. You will also find a regularly updated calendar of events and many other features relating to Catholic life.
You can also experience Jesus through a Holy Half Hour, filmed at St Cecilia's Abbey, Isle of Wight with Bishop Philip presiding and Gregorian Chant from the Benedictine Sisters with further video content coming soon.
You can download the app for free from iTunes and Google Play