Day of Recollection : Francis, Clare & Mary
21 July 2018 – the Sacred Heart Church, Shanklin, Isle of Wight
---
The Saints of Assisi, Francis and Clare, both loved Mary with such devotion and affection, in her they saw Our Mother, Our Comforter and Our Queen. '… May you too cling to His most sweet mother who gave birth to a Son Whom the heavens could not contain …So you too by following in her footprints especially those of [holy] humility and [holy] poverty can without any doubt always carry Him spiritually …' Clare of Assisi (in her letter to Agnes of Prague written in 1238).
---
Our Day of Recollection was hosted jointly by the Isle of Wight Franciscan Group and St Anthony's Fraternity, Portsmouth of the Secular Franciscan Order – the OFS.  The day was a Marian event which with Franciscan themes and examples encouraged us to consider the importance of Mary's role in our lives.  We were blessed with the company of many others from across the Island and Ed Matyjaszek, Principle of The Priory School of Our Lady of Walsingham was our guest speaker.
The day's programme:
10:30 Coffee and registration
11:00 Welcome and opening Prayers
11:10 Morning Reflection : Saint Francis of Assisi and Mary
12:00 The Angelus
12:30 Mass
13:30 Lunch
14:15 Our Lady of Walsingham: A short talk and poetry readings
14:30 Afternoon Reflection : Saint Clare of Assisi and Mary
15:30 Tea
16:00 Closing Prayers and Farewell
The morning video, used with kind permission of Vincent Cole, helped to lead our thoughts towards St Francis's devotion to Mary, and to consider our own relationships with Mary the Mother of God.
After lunch Ed Matyjaszek spoke of Re-dedicating England to Mary as her Dowry, and included the Dowry Tour video.  He spoke of the identity of English Catholics and read some of his poetry including 'A Christmas Lullaby'
---
The handouts of our morning and afternoon reflections can be downloaded by clicking on the images below, if you would like to use them in your own Franciscan gatherings and meetings please feel free do to so.
Ecce, Fiat, Magnificat
Ecce, Fiat, Magnificat
are your words, O Mother.
Ecce, Fiat, Magnificat.
These precious words are no less powerful
spoken today, O Mary, full of grace,
than when they fell from your lips long ago.
And God, as Artist, left his trace on your heart
O Mother so gifted in beauty and grace.
Both within and without you radiate God's image.
Teach me to make a home for God in my heart
Consecrate me through these sacred words:
Ecce Fiat Magnificat
So be it. So be it. Amen!
Mary Cecilia Keyser, O.S.C.
Wappingers Falls, NY
St Bonaventure – To Mary
Have mercy on me, O Lady: for thou art called the Mother of Mercy. And according to thy mercy: cleanse me from all my iniquities. Pour forth thy grace upon me: and withdraw not from me thine accustomed clemency. For I will confess my sins to thee: and I will accuse myself of all my crimes before thee. Reconcile me to the Fruit of thy womb: and make peace for me with Him who has created me.
---
Ed's read some poetry from his recent book 'The Rosary, England's Prayer'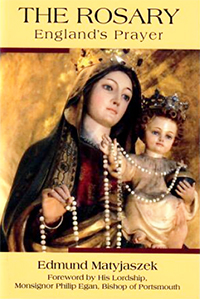 ---
St Francis of Assisi's prayer
praising Mary the Mother of Jesus
Hail, holy Lady, most holy Queen,
Mary, Mother of God, ever Virgin.
You were chosen by the Most High Father in heaven,
consecrated by Him, with His most Holy Beloved Son and the Holy Spirit, the Comforter.
Hear Francis' Prayer Praising Mary in full